QA Heatmap Analytics is an analysis software distributed by the QuarkA development team as a WordPress plugin. It specializes in behavioral analysis, and you can check heatmaps and other data for free.
How to use
There is nothing particularly difficult about it. Just install and activate it like any other plug-in, and you can start measuring data and using it right away. Unlike general analysis software, you can start using it right away without any troublesome settings.
Initial settings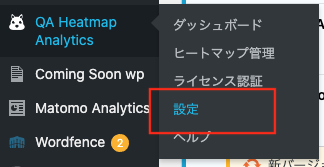 As of version 0.7, there is only one place where you can configure the settings, unless you are a paid service subscriber.
Data retention period (months)
You can set the data retention period. For example, if you set it to 3 months, and the current month is August, then 8-3 would be May, and the data before April will be deleted.
For more details, please refer to the settings in this manual.